Tis the season for peaches...and it makes me oh so thankful.....
For the last couple of weeks we have had.....
Fresh Peach Pie
Peach crisp
Peach Ice Cream
Peaches and Cream
Cinnamon Peach Crepes
and oh so my favorite......Peach Salsa
and of course fresh peaches.....I have even canned a few for winter storage......
and oh yeah...thanks shay for letting us steal off your trees and only threatening the cops once....that was great!
I have meant to post these recipes several times but because life has been crazy crazy crazy and not all peachy.......blogging has taken a back seat......I used to fancy myself a writer! HA!
Now I fancy a clean house, happy kids and a smiling husband...not always in that order!
and though life has turned a few rough corners and offered some bumps and bruises....we are still thankful for healthy kids, and state of the art hospitals, doctors that follow their instinct and friends that fill in for parents when we are gone, kids that step up to the plate to pitch hit for their parents and so much more, and thankful that tomorrow is always another day....but especially we are thankful for the goodness that come with biting into a fresh peach and have the juice spill done our chin and know that life is good...despite the bruises.
So here is to summer sunshine that is fast fading and the joys of eating....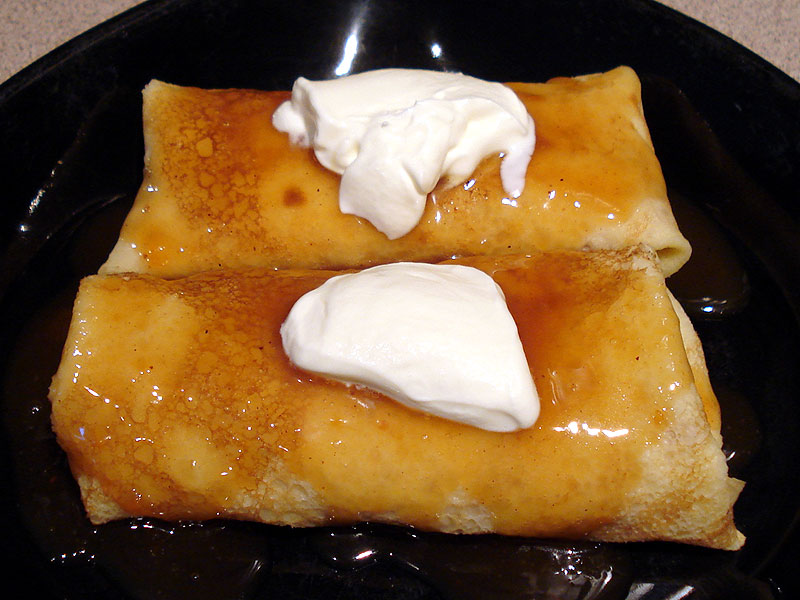 Cinnamon Peach Crepes
1 cup all-purpose flour
2 eggs
1/2 cup milk
1/2 cup water
1/4 teaspoon salt
2 tablespoons butter, melted
Directions
In a large mixing bowl, whisk together the flour and the eggs. Gradually add in the milk and water, stirring to combine. Add the salt and butter; beat until smooth.

Heat a lightly oiled griddle or frying pan over medium high heat. Pour or scoop the batter onto the griddle, using approximately 1/4 cup for each crepe. Tilt the pan with a circular motion so that the batter coats the surface evenly.

Cook the crepe for about 2 minutes, until the bottom is light brown. Loosen with a spatula, turn and cook the other side. Serve hot.
Filling (makes 4 pints)
6 pounds of peaches
2 1/2 c sugar
1/2 flour
2 t cinnamon
1 t nutmeg
2 t lemon peel
1/4 c lemon juice
Peel, pit and slice peaches and treat so to prevent darkening. Combine sugar, flour and spices. Rinse and drain peaches. Stir peaches into sugar mixtures and let stand until juices begin to flow, about 30 minutes. Stir in lemon peel and lemon juice, cook over medium heat until mixture begins to thicken. Ladle into pint jard, leaving 1/2 inch head space. Cool for no more then two hours and then freeze...or use fresh in the crepes!
Top with blackberry syrup and fresh peach ice cream!!
Fresh Peach Salsa
Ingredients
2 cups chopped, peeled fresh peaches

1/4 cup chopped sweet onion

3 Tablespoon lime juice

2 to 3 Tablespoon finely chopped, seeded fresh jalapeno pepper

1 clove garlic, minced

1 Tablespoon snipped fresh cilantro

1/2 tsp. sugar

In a medium mixing bowl stir together peaches, onion, lime juice, peppers, garlic, cilantro, and sugar. Cover and chill for 1 to 2 hours.
Makes 2 cups.
uuuummmmm...................just posting this recipe makes me want some of this salsa right now!!!!
Fresh Peach Ice Cream
I will add pictures later this week when I make the ice cream for Relief Society...so all you sistas that will be there....yumm!!!!
(From the book: Give Me a Home Where the Dairy Cows Roam — True Stories from a Wisconsin Farm. Coming Soon — Fall 2004)
• 2 eggs
• 3/4 cup sugar
• 2 tablespoons cornstarch
• 1 cup milk
• 1 pint heavy whipping cream
• pinch of salt
• 2 teaspoons vanilla
Using an electric mixer, beat the eggs for several minutes until thick and lemon colored. Add 1 cup of milk and blend into the eggs. Mix sugar and cornstarch in a large saucepan. Add egg/milk mixture to the sugar and cornstarch. Cook until thick (about 5 minutes) stirring constantly. Allow the custard mixture to cool to room temperature.
When the custard is cool, put into a freezer-safe bowl. Blend in cream and salt. Freeze for 2 hours or until slushy. Add 2 teaspoons vanilla. Whip for 5 to 10 minutes with an electric mixer. Return to freezer and finish freezing (several hours or overnight).
Variations:
After you have whipped the ice cream, fold in 1 to 2 cups of fresh or frozen fruit, nuts and/or chocolate before returning the ice cream to the freezer to finish freezing.
Here are some ideas for additions to your ice cream:
Strawberries
Blackberries
Raspberries
Peaches
Cherries (or Maraschino Cherries)
Chocolate chips
Butterscotch chips
Crushed Heath bars
Crushed peppermint candy
Chopped walnuts
Chopped pistachio nuts
Diced bananas
Coconut
Chocolate chip cookie dough (drop into the ice cream by small spoonfuls and carefully fold in)
Caramel or chocolate or fudge syrup (drop into the ice cream by small spoonfuls and carefully fold in)